First Light Landscape Architecture
While those may have been gentler times, Seattle has been known throughout the decades as the "Emerald City" – a green city, its skyline defined by towers, and known for its diverse, cultured residents. Seattle, like its Pacific Northwest neighbor is surrounded by the vast natural beauty of the pacific temperate rainforests. Through this connection, the Seattle's inhabitants share a love for nature that permeates the city's culture. Seattleites love parks and have taken the traditional park further, creating one in the sky, surrounded by views of towers, the Sound, the Olympics. Sky gardens are one of the specialties of Vancouver landscape architects PFS Studio, previously known as Phillips Farvaag Smallenberg. Chris Phillips's team at PFS Studio designed one of Seattle's most original and successful sky gardens, one adjacent to what was then called the WaMu Tower, now Chase Bank, a garden constructed on the roof of the office built over the Seattle Art Museum. Seventeen floors up, this is one of the most spectacular perches in the city, a realm of imagination and relaxation set high above the streets of downtown. The PFS Studio concept of a sky garden is neither a simple green roof without access, nor a hard-edged roof zones without greenery, but rather a true garden in the sky. PFS Studio founder Chris Phillips believes a great sky garden should have sustainable aspects while still being a social, comfortable, and symbolic space like any fine garden at grade level. PFS Studio has designed previous sky gardens for Westbank, including one at the top of Vancouver's TELUS Garden, but none compare with what has been planned for First Light. Principal landscape designer for First Light, Kelty McKinnon, describes her design as "focusing on nature, in both its wild and cultivated forms." The building is 47 stories, comprising condos on top of a retail and office podium. There is a distinct garden planned for each of these building components which combine to form the tower at the meeting point of the Belltown and Downtown neighborhoods.
Chase Bank Roof Garden / Seattle Art Museum Roof Garden , 2007 — Seattle, USA
Located above the Seattle Art Museum expansion, the 17th floor roof garden is a green roof that functions as a vital social space and civic heart of the Chase Bank's downtown headquarters. As one of the largest green roofs in the city, the garden's usable area surpasses three fold the City of Seattle's minimum open space requirements, and provides decks and pathways that showcase views of the downtown skyline and across Elliott Bay. The concept integrates elements that relay the story about the centre, its local origins and the community it serves. The project references the varied and unique landscape typologies of Washington State, from its coastal beaches to the Olympic and Cascade ranges and the interior plateau, with nearly two-thirds of the area planted in predominantly drought-tolerant plant species.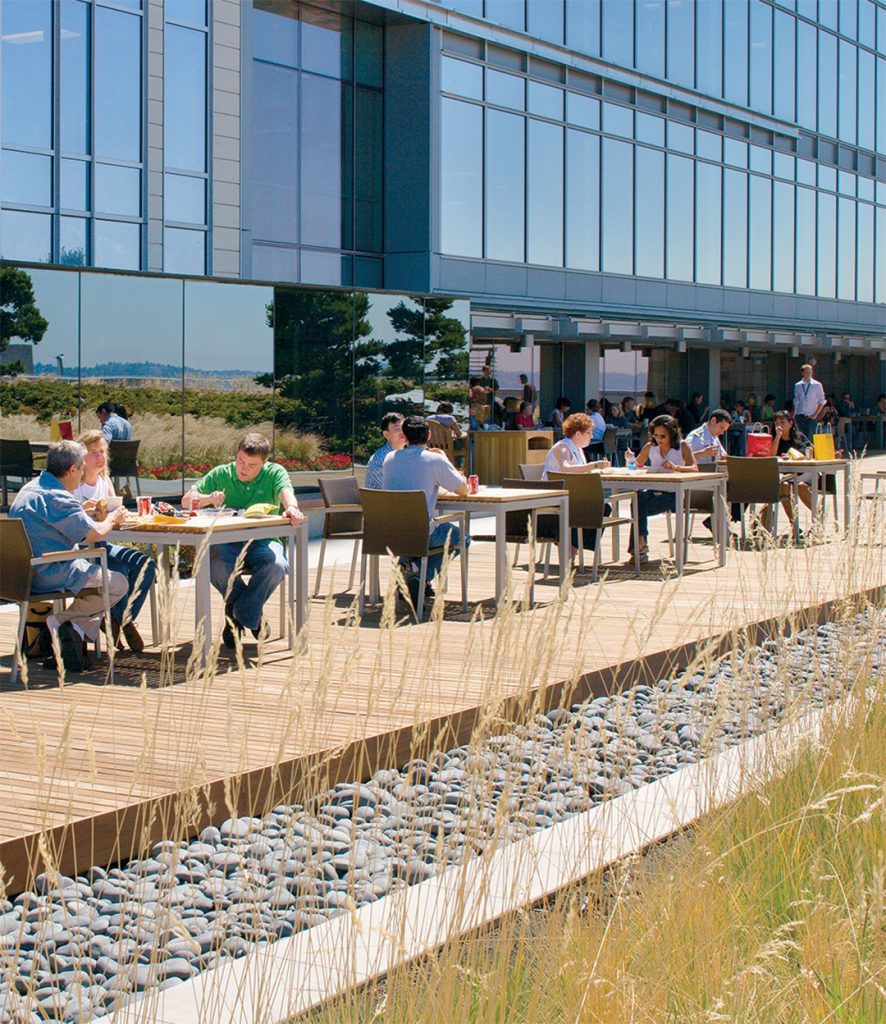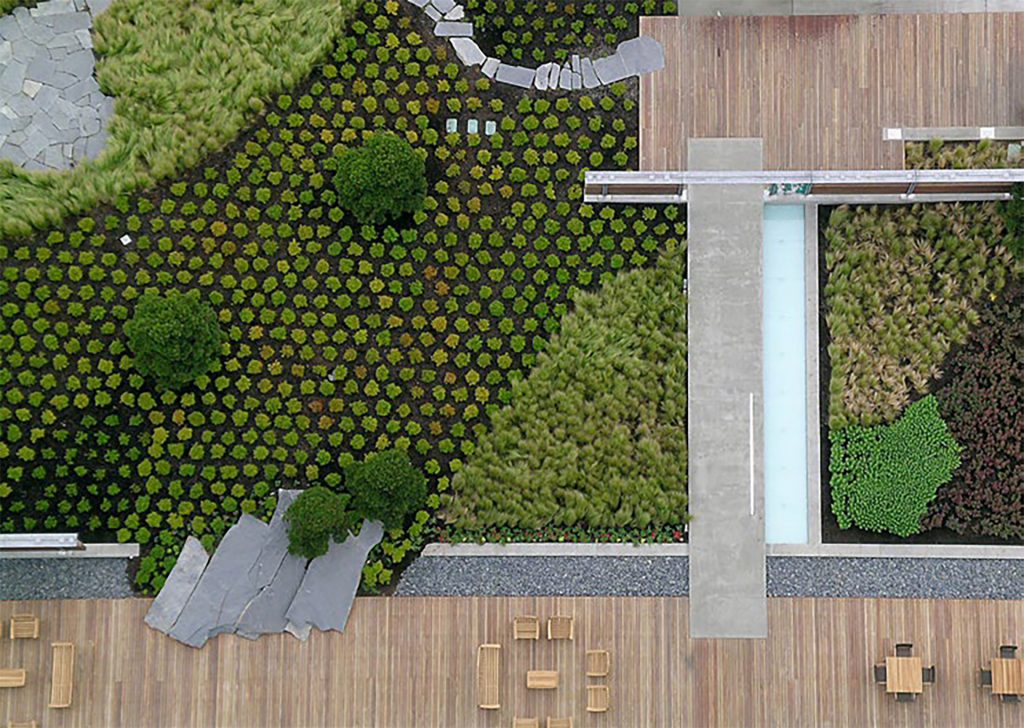 5th and Madison, 2017 — New York, USA
Centrally located in Seattle's urban core, the California Centre at 909 West Fifth Avenue and Madison Street is adjacent to the Seattle Public Library and a number of other iconic buildings in the city's financial district. As a redevelopment site, the importance of the context could not be overlooked and, in response, the project delivered a handsome renovation of an existing commercial tower, an exciting new residential mixed use high rise, and a dynamic new publicly accessible open space. The open space, created over an existing parking structure, is a reinvented landscape that provides a distinct series of experiences. Bound by an illuminated cascading water feature on one side and an urban representation of a native deciduous forest on the other, the space draws the public in from Fifth Avenue to enjoy afternoon programming and sweeping views of the city skyline. The development was one of the first in the USA to obtain a Gold Standard LEED Certification for its leadership in environmental design.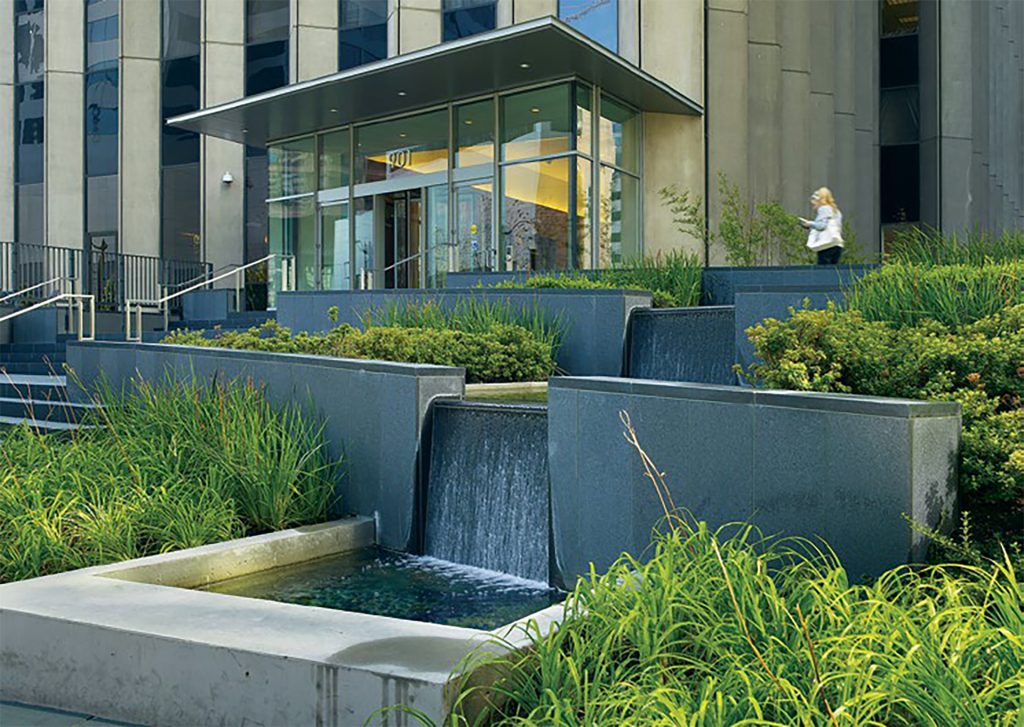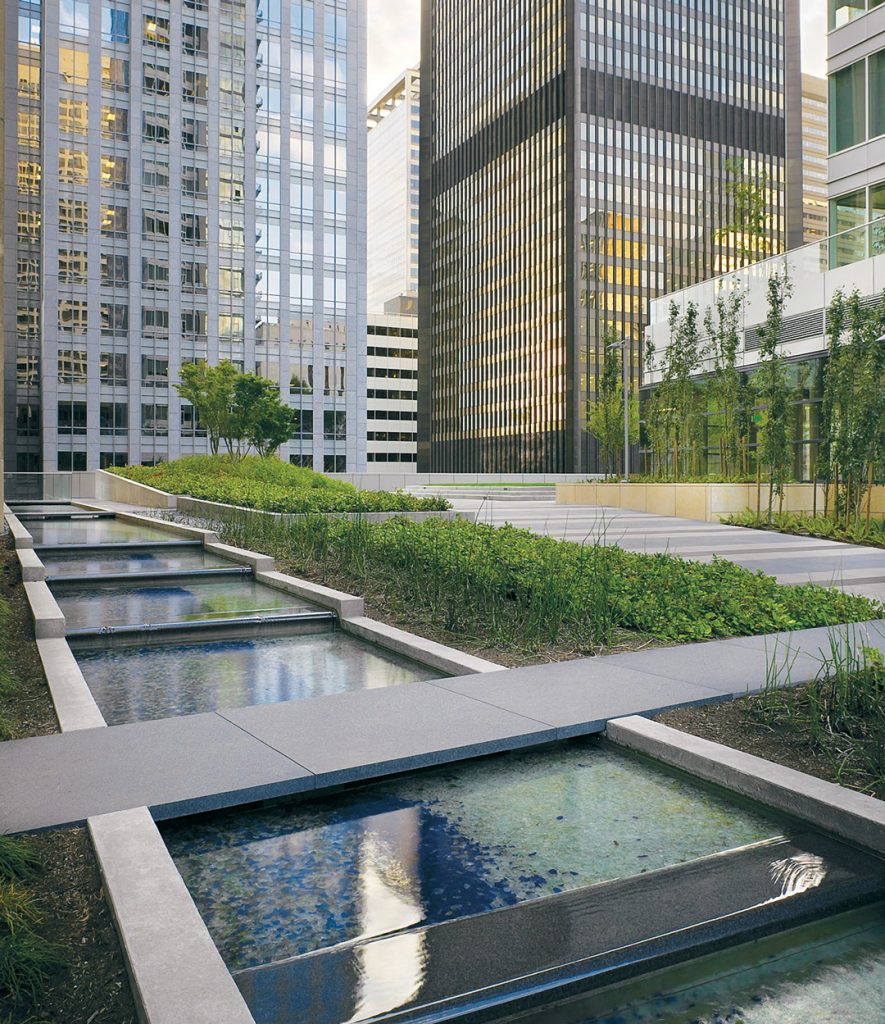 PFS Studio is a leading Canadian planning, urban design and landscape architecture firm offering consulting services nationally and internationally on a wide range of projects for both the public and private sectors. The firm has been in practice for over thirty years (formerly as Phillips Farevaag Smallenberg) and produces its award-winning work from its Vancouver studio and through a strategically allied joint enterprise in China. PFS Studio has led or been centrally involved in many large scale planning and design projects throughout Canada, the US, China and other international locations abroad. Because of its strong commitment to the Pacific Rim and, in particular, its long standing presence in China, PFS Studio works out of three allied offices in China – Shanghai, Guangzhou and Ningbo. The firm has received major recognition through numerous planning, urban design, heritage and landscape architecture awards over the years. These awards confirm the company's commitment to innovation, technical advancement and cost effective design solutions as well as a keen ability to create memorable and engaging public spaces. PFS Studio is well known for both planning and built works and the firm's extensive portfolio of work demonstrates its success in completing projects that have faced a high degree of complexity in both process and approvals. PFS Studio is led by five Directors, diverse in their own specialties, yet complementary as an effective leadership team. They are strongly supported by a number of highly experienced associates who help structure and guide the various project teams. PFS Studio's principals and associates work with an exceptional staff of design and planning professionals, and collectively provide creative solutions to the widest range of projects. The PFS Studio team is committed to providing unparalleled service to its clients. Embodied in this service is design excellence, clear communication, technical expertise and recognizable value.